LISTENER - An Outdoor Weather Proof Audio Responsive LED Installation - Maker Tutorial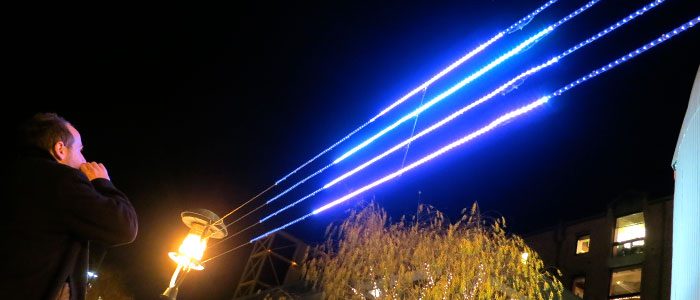 Summary :
Four, fifteen foot addressable LED light strips hang between two light poles. Four microphones are placed in the center of the strips. In the style of an old graphical equalizer, the sound each microphone hears is translated to light on a LED strip. Everything is weather proofed, and structurally installed for being outdoors in the Boston winter.


Part List : (links are for reference only, better deals may exist)
Bare Essentials

4, 15' Adafruit Addressable LED strips

4, Weather resistant microphones

4, Arduino Uno rev3

4, 5v 10a LED strip power supplies

4, 5v 2a Arduino Power Supplies

4, 5v 1a Mic Power Supplies
Fancy Stuff for Modularity and weather resistance
8, 4-pin JST SM Receptacle Cables
8, 4-pin JST SM Plug Cables
4, 2.1mm DC barrels
4, 2.1mm DC board mount barrels
4, 2.1mm DC plugs
8, Male RCA cable connections
Burial Sprinkler Wire, 4-internal wires
A good assortment of heat shrink
1, Tube of silicone caulking
4, Small bread boards,
2, Weather proof boxes,
2, Six plug power strip
4, 25lbs tension springs
1/8th inch vinyl covered cable
16, 1/8th inch cable clamps
8, caterpillar hose clamps
Large vinyl tubing
1000 zip ties, 6" white
Discharge hose or similar tough rubber tubing
4, Zinc Quick Link

Tools :
Power Drill
Socket Wrench
Socket that fits 1/8" cable clamp bolts
Ladder
Cable Cutter
Wire Cutter
Wire Stripper
Soldering Iron
Solder and Flux
Mat Knife
Heat Gun

Steps :
[ 1 ] —— The Basic Wiring and Code ——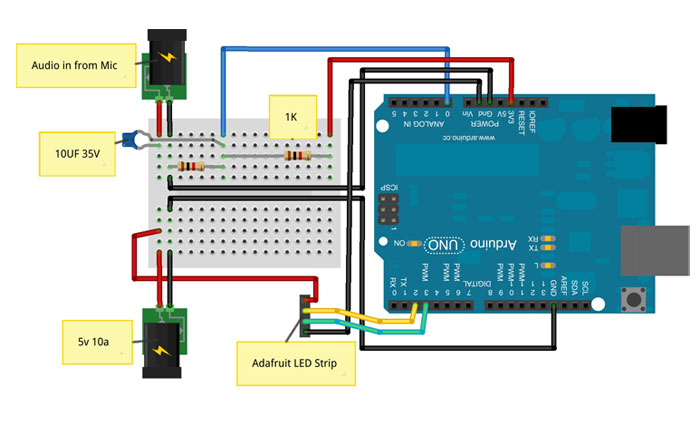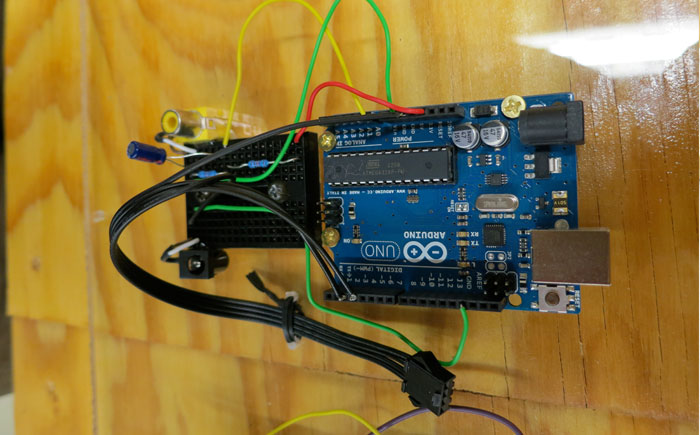 A bread board is used only for ease of re-purposing and modification later. Be sure to get the connections to the LED strip correct (especially the 5 V) and that you have attached to the end which reads GRND, DI, CI, +5v. Read the Adafruit Tutorial on this.
The microphone send values between -1 and 1 V. The 10 uF capacitor shifts the voltage up so that it is centered around the voltage between the resistors. After the circuit was built, we looked at the range of values that the Arduino's A/D converter was reading and then scaled them up in software.

The code running on the Arduino uses the Adafruit libraries, which can be found here. The rest of the code can be downloaded from the New American Public Art github here.
Commenting in the code will help explain how things work in there.
We used outdoor weather proof boxes to house the Arduinos, even through they ended up being inside for this installation. It's always good to think about the future of a project after the show has ended. Inside each box are two sets of power supplies and two Arduinos.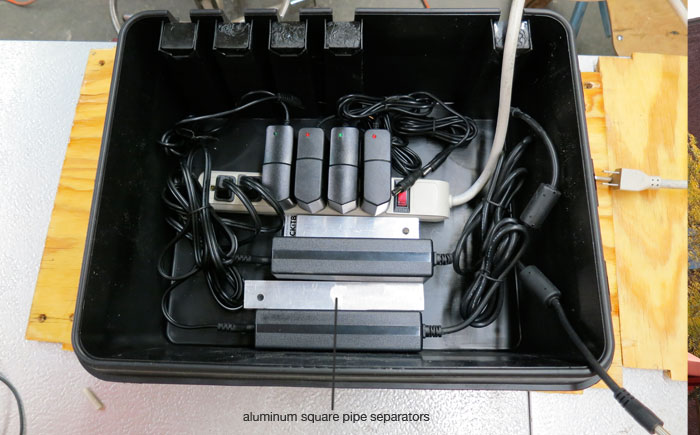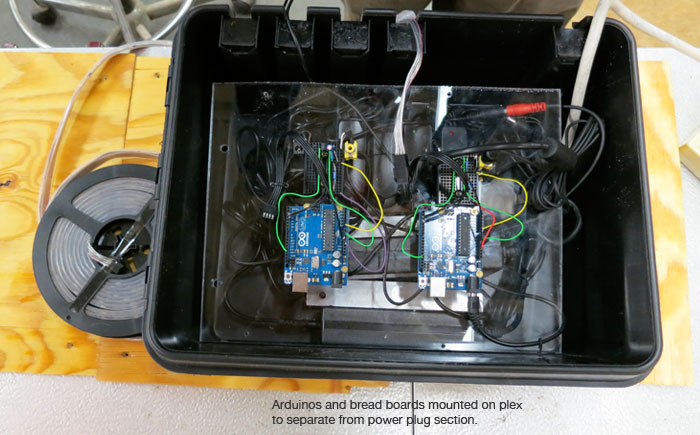 [ 2 ] —— Cords ——
For this installation we needed to route all the power and signals about 50 feet into a nearby building where the Arduinos were. To do this we needed to create outdoor extension cords for the various power and signal types. Sprinkler cable is super tough stuff and has four (or more) separately insulated wires inside a tough black plastic shell.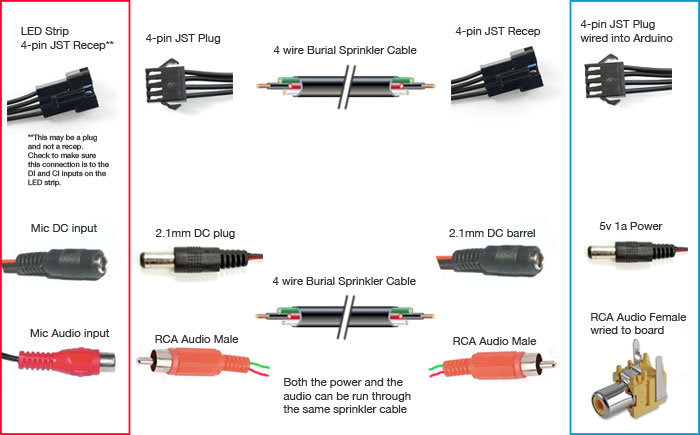 All the connections should be soldered with heat shrink.

Be sure to double check the LED strip extension cord. You don't want to mix up the 5 V power wire!

Where the LED strips and mics plug into their respective extension cords were exposed to the elements, they needed to be weather proofed. Encasing these connections in a rubber tube, zip-tied tight at the ends, and then filling what little space remained with silicone does the trick.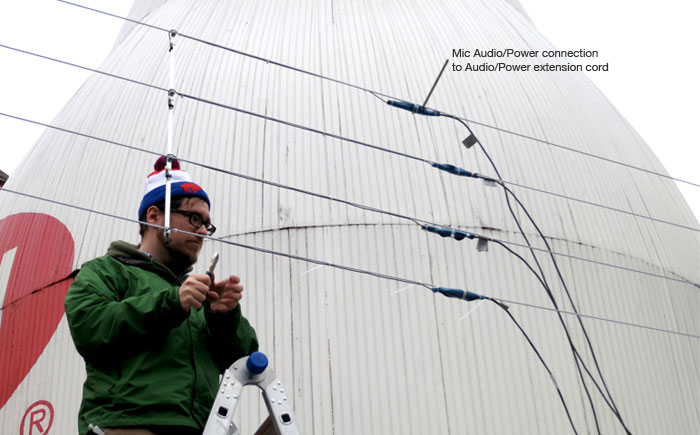 [ 3 ]—— Structural Support  ——
The structural of this was vinyl covered 1/8" cable. The cable was looped at both ends and secured with cable clamps. The inline tension spring was also secured with cable clamps. The spring is an easy solution for achieving decent tension in a cable, without worrying if you're going to pull down a light pole.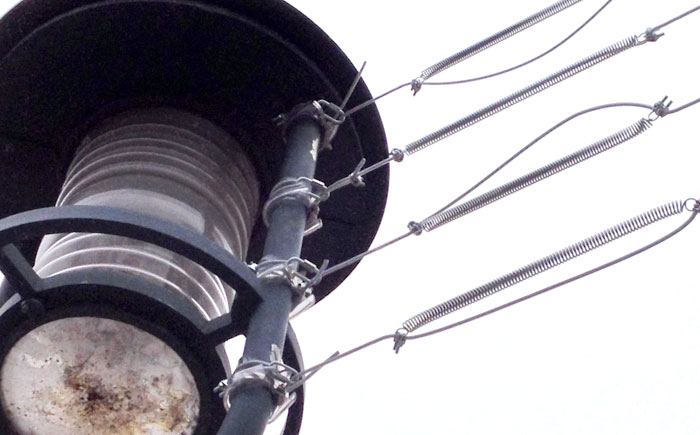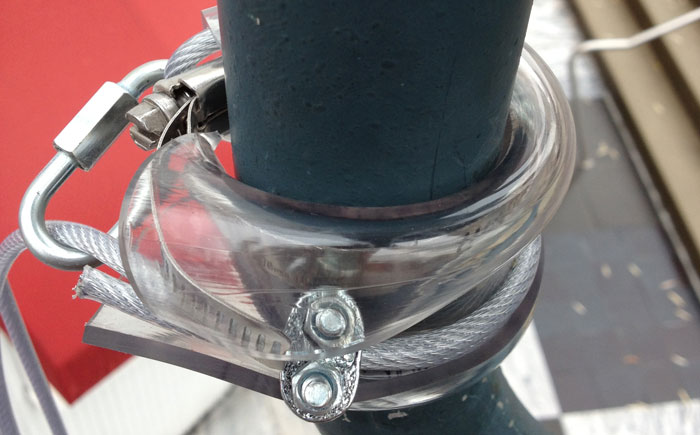 Vinyl tubing was used where the cable contacts with the light pole. Classically, "The City" worries about paint chipping or being scraped off their infrastructure. Vinyl tubing as padding usually eases their worries. 

[ 4 ] Zip ties and Details
All the LED strips and cords were zip-tied to the cables. A small aluminum bar is affixed to all the cables in the middle. This gives the microphone a place to attach and offers a little structure to the four separate cables.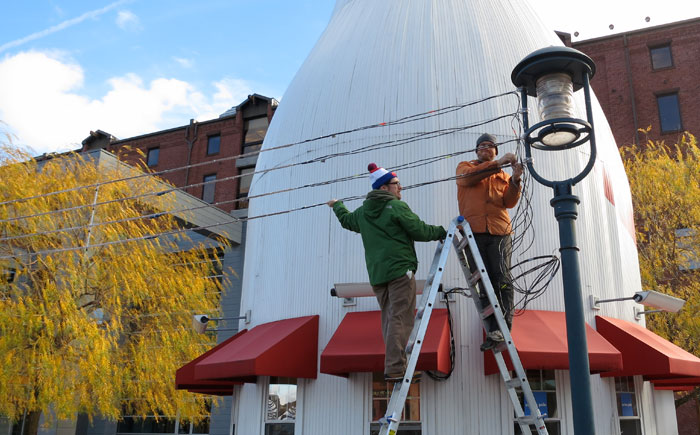 And then we turned it on and started yelling.
Also a very special thanks to the Artisans Asylum, where NAPA's studio is located.
4 Notes/ Hide
penellohpee reblogged this from newamericanpublicart